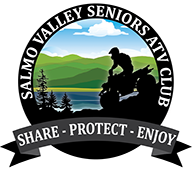 Membership
Why join?
CAMARADERIE - ORGANIZED RIDES - HELP FOSTER THE SPORT
HELP MAINTAIN AND DEVELOP TRAILS
CONTRIBUTE TO AN ACTIVE SOCIAL LIFESTYLE
Membership in ATVBC gives us all a bigger voice to lobby governments,
and organizations, on our behalf. ATVBC & membership qualifies you
for up to a 25% savings on mandatory liability insurance when riding
anywhere on crown land . Membership gives insurance coverage for
directors, special events, and organized rides.
How to join
Come to a club meeting or contact any SVATV executive.
Yearly membership cost
(includes ATVBC membership)
Individual - $60
Add a second person - $40
Add Any more Additional Family Members - $20